FaceCradle was invented by David Scrimshaw and Roz Ruwhiu owners of Hairy Turtle Pty Ltd.
David is a highly awarded product designer, product marketer and entrepreneur, with over 30 patents to his name and the founder of Ozito, a famous power tool brand based in Australia.
Roz has many years experience in Advertising where, as the Head of Production she has made countless television commercials mostly for famous brands and working with some of the most creative talent in her industry.
How Face Cradle Was Concieved
After getting up at 4am, with little sleep the night before, David and Roz embarked on an economy class flight from Melbourne (Australia) to Wellington (New Zealand). They had a wonderful day ahead but they tossed and turned in the plane trying to get some sleep so they could feel good on their adventure.
Roz was leaning forward propping her head in her hands and mentioned she would love it if something could hold her head. David's background in product development taught him that when somethings new, often people take some time to trust if it works. He looked across and saw a person tossing and turning with a trusty old U shaped neck pillow and said, "those things don't work very well" and thought....what if we improved it? FaceCradle had a hearbeat!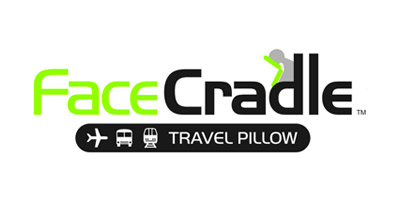 There are no products matching the selection.